Kick off , and retreat
We'll give you after your demands a genuine archipelago experience to remember.
Where You can choose from our "Optional".
Optional
-Spa with sauna and seaweed-bath in the ocean –
– Zenmeditation –
– Meditation in movement –
– Massage –
– Treatments –
– Excursion to the outer archipelago –
– Walks on the nearby islands –
– Fishing –
– Canoe & Rowing –
Welcome to an island – 60 minutes from Stockholm and Arlanda airport
In Roslagen one has received bathing guests since the end of 1800- century. Norrtälje was a splendid seaside resort with a "warm bath house" which, among other things, was able to offer mud treatments.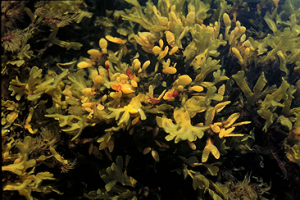 – But here we are bathing in the ocean in the healing Fucus vesiculosus and swim among sea birds. Meditates and sharpens attention of bird song, the sound of the ocean, the leaves, the sound of the reeds and the wind, in order to sink deeper into silence.
Fucus vesiculosus in the Baltic sea is a protection, pantry and nursery for a range of species. The seaweed has several useful trace elements as iodine, chromium and selenium. The iodine in the seaweed is good for the thyroid. In ancient times the seaweed was used against joint pain and the Fucus vesiculosus in the 18th century was used against asthma and skin diseases. Later, it has been discovered that seaweed treatment is beneficial for blood circulation – the seaweed will be added in the bath water or the skin is covered with fresh seaweed.
Egg and sperm formation happens on different seaweed-individuals in autumn. Germ cells are formed in receptakler. When summer comes, the germ cells developed and released when at full moon. But only if the weather permits an optimal fertilization – otherwise, the seaweed waits for better meteorological circumstances.